Today there was a MobileMonday Developer Day (M2D2) in Munich (München, Germany) with the Intel AppUp Application Lab: MeeGo Series extended, organized and hosted by MobileMonday and Intel in cooperation with about 100 attendees.
The speakers spoke about details of the Intel AppUp Developer Program, the advantages of the MeeGo platform, the numerous tools (in particular the MeeGo SDK & Qt), the binary code validation and the app developer community.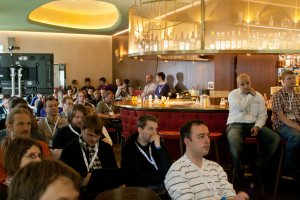 I was invited to give a speech there on the topic Getting Your Windows and MeeGo Apps Into AppUp. Download the PowerPoint presentation.
This post is also available in Deutsch.