A simple plug-in that displays flag icons:


This plug-in does not provide a way to translate posts directly, but offen you do not want a direct translation of posts. Still you want to add flag icons that link to other language versions of your blog.
After installation of this plug-in a new widget will be added that you can use to display such flag icons on your blog. A set of flag icons is included, but if you want to use your own images that's possible, too.
Developing and maintaining the plug-in takes much time. Therefore please conside a donation to support this free plug-in:
Installation
Download and install the plug-in in your WordPress administration.
Activate the plug-in on your plug-in page.
Go to the plug-in configuration page to add country flags.
Add the Flags Widget to your page (e. g. to the sidebar).
You may change e. g. flag image and target URLs in the widget settings.
Configuration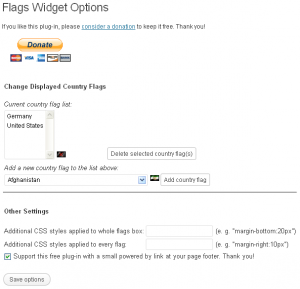 Define the displayed country flags.
Add additional CSS styles to the whole flag box or every single flag.
Options of Widget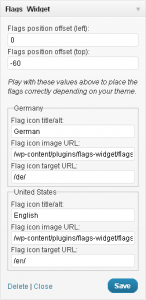 Define position offset (left and top) of the flags. You just have to play around with these values to make it look good depending on your theme.
For every country flag you can additionally define these values:

Change the title and alt HTML tag of the flag icon (if not set the country name is used).
Change the icon image URL of the flag icon (if not set the default icon set is used).
Change the target URL of the flag icon (if not set the two letter country code is used).
Changelog
1.0.4:

Fix: Fixing broken ZIP of last commit – sorry.

1.0.3

Fix: PayPal donation link fixed. Thanks for a small donation!

1.0.2

Tested with WordPres 3.3.0.

1.0.1

Fix: Fixing the link "Settings" on the plug-in page.

1.0.0
If you like to leave a comment, please add it below this blog post.
This post is also available in Deutsch.